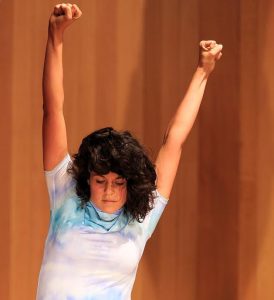 «En mi práctica coreográfica investigo diferentes modos de entrar en relación con el entorno»
Carlota Mantecón (1984) was born in Tenerife, Spain. Artist working in the field of choreography, dance and performing arts. Focus in research of the body movement, in dialogue constant dialogue with other artistic and though disciplines.
Choreography //
In 2018 her new solo Project : "Gimnástica OFF" , has been supported by three different spaces with residencies: LA Caldera (Barcelona), Leal Lav, Centro Parraga (Murcia), the premier will be at the Auditorium of Tenerife in 2019. // BEGGINERS· Women older than 65 years old scene practice project presented in Leal Lav. 2017, continuos supported in 2018 by Participacion Ciudadana and Festival Eima (Mallorca) // BETEWEEN Nadia and I presented in Teatro Leal 2017// 2016 Dancer for a Research Project by Carmelo Salazar (Director of La Porta)// THE EXERCISE OF LOVE, premiere in November 2015 and co-produced by Teatro Guimerá. Invited to participate in SPANISHMATCHBOX (Norway, 2016). THE SAVAGE SPIRIT OF THE CENTAUR research project working residency in Leal Lav. 2013 // LIVE (en vivo) premiere in April 2014, Teatro Victoria, Spain. //WOW performative work with Masu Fajardo. Antic Teatre, Barcelona, 2014. WITH OUT YOU// performative work with Masu Fajardo, Teatro Guimera 2013// FAITH (a piece about trust), co-produced by Auditorio de Tenerife Adán Martín, winner of two REPLICA AWARDS in 2013: The best performance and The best choreography. Collaboration as movement researcher with Jessie Brett in //FIRE SHADOW SILENCE, selected by BE FESTIVAL 2010 and in //AWAKE IN THE DREAM supported by the Arts Council of Wales and winner of an award in CERTAMEN COREOGRÁFICO DE MADRID 2012. Italian tour with //OFELIA'S HEART in 2010. Collaborations with other artists: Jesús Rubio, Élida Dorta, Masu Fajardo ,Teresa Lorenzo, Javier Caro, Simone Marin and Dee Ka Woong. Recently has worked for the choreographer  Carmelo Salazar, as a dancer, in a an artistic dance research.
Her studies: One Year Certificate in Higher Education and PG in Performance in London Contemporary Dance School (LCDS). Three years course in AREA Espai de Danza i Creacio, Barcelona. Other creative spaces in the city like LA PODEROSA and LA CALDERA. Teacher of Contemporary dance, Improvisation and Yoga instructor.