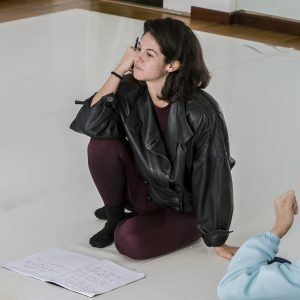 Carlota Mantecón (Tenerife, 1984) es bailarina, coreógrafa y  performer. En mi práctica exploro con nociones de re-significación, realidad-ficción, sonido o territorio. Me intereso por los diálogos entre disciplinas, la diversidad de formatos y la creación colaborativa.
 Mis últimos trabajos son: DANCE, NO GOAL, una pieza sobre historias de la danza creada junto a Luz Prado y Tamara Ascanio, estrenada y co-producida simultáneamente entre Tenerife y Eslovenia en el 2020; y ESTO NO ES UNA PRUEBA DE SONIDO, un solo de danza y un dúo sonoro con Luz Prado que se estrenó en el Festival FAM 2019.
Entre el 2020 y el 2021 he comisariado un programa de danza y performance 'La Cresta' en el museo TEA Tenerife Espacio de las Artes. En 2017, con el apoyo de Tenerife Lav inicié una práctica de creación escénica con mujeres mayores de 60 años PRINCIPIANTES, con la que  continúo trabajando en diversos eventos coreográficos según el contexto. En los últimos años he colaborado con artistas, coreógrafos y pensadoras que me nutren para seguir expandiendo la mirada en el campo de la investigación escénica como Carmelo Salazar, Jesús Rubio Gamo, Masu Fajardo, Sara Reyes, Jordi Claramonte o Javier Cuevas, entre otros.
carlota.mantecon@gmail.com
….
eng
CARLOTA MANTECÓN (Tenerife, 1984) dancer and expanded choreographer, develops her scenic practice in the field of performing and contemporary arts. Her work comes from the exercise of listening to the body in a polyhedral way and to the diverse possibilities of having a relationship with the environment. Her artistic dialogue is specially focused on the sound experimentation and the architectures of the ephemeral.
In 2016 she starts the project of artistic mediation, PRINCIPIANTES, with the support of LEAL LAV. Scenic practice for women over 65 years old.During 2017 she collaborates with Carmelo Salazar (director of LA PORTA) in different types of artistic accompaniment. She also collaborates with artistic as Luz Prado, Jesús Rubio Gamo, Masu Fajardo, Nibia Pastrana Santiago and Javier Cuevas, among others.
Currently she researches with Sara Reyes, a scenic practice from the danced action with the collective Las Kellys, «Ni de coña», for the International Congress of philosophy of dance, in Teatros del Canal.
In my artistic practice I develop «choreographic actions» from stablishing dialogues with the body, the sound and /or the territory. I'm guided by experiencing with time notions, the practice of resignification and the relationship fiction-reality.
In the last years I have collaborated with artists, curators and collectives that have deepened my active listening to ethics and the modes of being together, which directly affects to the wonderings I have towards the scenic.