During 2012 and 2013, Carlota Mantecón (Tenerife), Jessie Brett (Wales) and Jesús Rubio (Madrid) had several Skype meetings to talk about trust. Following this conversations, FAITH was born, a project finally produced with the generous support of Auditorio de Tenerife Adam Martín, Certamen Coreográfico de Madrid and La Gomera Choreographic Centre. Between March and June 2013, Carlota, Jessie and Jesús worked together in a studio looking for answers to their questions about trust. They wrote manifests, prayers and songs. They engaged on a quest to decide –should they let go, fight, ignore, heal, rebel or trust? They danced until they sweat all irony and disillusion and, together, started to redesign their faith in the modern world.
---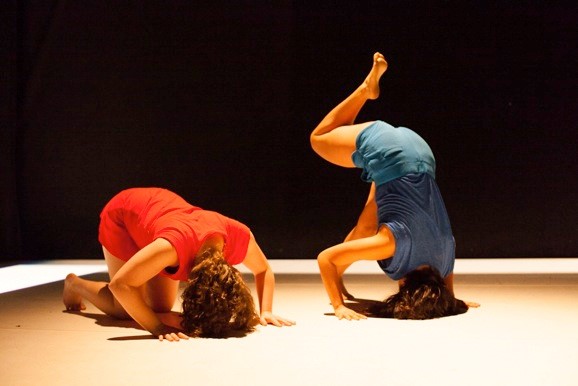 I trust my taste buds,
the natural lubrication of my vagina,
the strength of my sphincters,
the integrity of my ribcage.
I trust sunrises by the sea and after-hour clubs.
I believe in this moment, here, now, with you.
---
PREMIO al MEJOR ESPECTÁCULO
PREMIO a la MEJOR COREOGRAFÍA
En los Premios REPLICA 2013
CREDITS
Dramaturgy and Choreography
Jesús Rubio, Carlota Mantecón y Jessie Brett
Performers
Carlota Mantecón y Jessie Brett
Sound space
Jesús Rubio y Javier Cuevas
Text
Jesús Rubio
Lighting Desing
Grace Morales
Music
Rachmaninov: Piano Concerto No. 2; Paganini Rhapsody. Underworld, Born Slippy (Nuxx)
Co-produced by AUDITORIO DE TENERIFE ADÁN MARTÍN
and Carlota Mantecón.
With the support of Certamen Coreográfico de Madrid, el Centro Coreográfico de la Gomera y el Teatro Victoria.
Special thanks to
Javier Cuevas, Daniel Ferreiro, Adrián Arvelo, Roberto Tórrez, Cristina Mantecón y Rodrigo Cornejo.
Premier
15 /06/2013
Auditorio de Tenerife Adán Martín, Santa Cruz de Tenerife
Presented
PREMIOS REPLICA, Auditorio de Tenerife Adán Martín, Santa Cruz de Tenerife 7/12/2013
WALES MILLENIUM CENTRE, Cardiff 13/09/2014